wherever there's a baby
08th April
ABC Bilingual Talking Toys
Olivia and I have had lots of fun with the Talking Kitchen and Teddy Count With Me, two toys from the Chicco ABC Bilingual range of talking toys that encourages children to develop their linguistic skills.
Interactive Talking Toys
Talking Kitchen is an interactive toy, designed for use from 12 months and has a wealth of fun and engaging functions that have kept my little lady amused.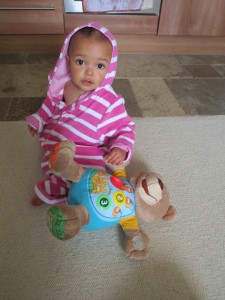 Teddy Count with Me is aimed at babies aged six months onwards, although it is only now at 12 months that Olivia is starting to show some enjoyment in playing with it.
Developing sounds and language
Both toys feature two language settings, French and English and it is easy to switch between the two. Olivia is currently in the early phase of developing her language skills and is quick to pick up different noises and sounds although she has not started to say meaningful words just yet.
Whilst it is too early to tell how much her toys are helping with developing French sounds specifically, there is evidence that hearing foreign languages in general early on can help improve development of language overall and I am hopeful that this toy will be useful in this sphere. It also means the toys are likely to have longevity, something I am always keen to find in her toys.
So many different activities keep Olivia entertained!
The Kitchen has a dial for music, kitchen noises such as cooking and blender sounds, and words to label and describe each piece of the kitchen being used, teaching numbers, opposites and directions. There is also a flashing light, a pop up toaster, a clock face, a basin and tap, a blender, a hob ring with separate frying pan and spatula and a shape-sorter recycling unit. Olivia soon got the hang of many of the functions and especially seemed to like opening and closing the oven door, hiding the recycling objects inside as she went. It was fun to watch her independently explore her kitchen, finding the different features, learning and playing with the functions with great delight.
The kitchen is Olivia's toy of choice at the moment and there's so many activities to keep her entertained and engaged!
Brightly coloured number buttons
Teddy features three brightly coloured numbers on her tummy which, when pushed, make appropriate sounds or songs according to the number of time the button is pressed. The teddy's hands and feet can also be squeezed to make Teddy laugh at having her toes tickled, a 'night night' switch off sound or cheery songs. Olivia seems to be slowly getting the hang of bashing the number buttons to achieve fun sounds but does not appear to be making full use of the features yet.
Lightweight toys, easy to transport
The kitchen is lightweight and easily transportable. I actually found that it was so light that Olivia knocked it over to start. This did not seem to affect her enjoyment in using it at all however, she just played with it positioned lying on its back.
Both toys arrive ready to go – no assembly required!
The brightly coloured kitchen comes ready to go with no assembly and with batteries. For me, I find this small detail a real bonus; there is nothing worse than getting out a new toy only to find batteries are required, which inevitably you do not have to hand! I also noted that Talking Kitchen goes into standby function when left for a period of time, and similarly if Teddy is not played with for a short time, she shouts out and then goes into standby, helping to preserve battery life, something I considered a useful function.
Did the toys make us smile?
We have really enjoyed the Talking Kitchen. Olivia frequently goes to it when left to choose her toy and I am enjoying hearing something different to music and think I might be improving my French too!
Olivia is slowly beginning to play with her Teddy and when I help her, she seems to be enthused and I think this could be a useful toy in the coming months.
Related Products