wherever there's a baby
04th February
Caddy carrier
Hannah loves getting out and about , so we couldn't wait to test the Chicco Caddy backpack. Ours comes in beige, although I describe it more of a versatile khaki colour that looks really smart and will wear well. It comes as standard with a sun canopy/hood and rain cover that zips in to cover baby. Brilliant. There's loads we both love about this great backpack.
Flexible, safe and super lightweight
It's very flexible. Suitable from six months (baby will need to be sitting up comfortably) to 36 months, it has two seat positions and plenty of room for Hannah to grow into. The fully adjustable five point safety harness means Hannah is snug and I don't need to worry about her wriggling free.
We love  this product! So lightweight,  but comfortable for Hannah.
I was also so impressed with how lightweight it is – the aluminium frame makes it sturdy, but so light I can pick it up with one hand. I also love how it folds almost completely flat. It's easily fits in the boot of the car on days out and can be discretely put away when we're not using it.
Very comfortable with excellent ventilation
The padding and ventilation is superb. Hannah's now nearly 10 months old, and I have easily carried her in it for a couple of hours. If we hadn't arrived home, I could've carried on too! The padding support at the base of your back is very comfortable, with gaps for ventilation on hot days. The arm straps are padded and really comfy once set up. The frame Hannah sits in is all padded too, and she's so secure and snug in there she's been known to fall asleep!
We love getting out and about with our Caddy backpack. Hannah absolutely loves seeing the world from a different view point, and I love that it's 'active' for her. It also means we can easily go places that a pushchair couldn't! I'm hands free to look after Hannah's older brother too – perfect.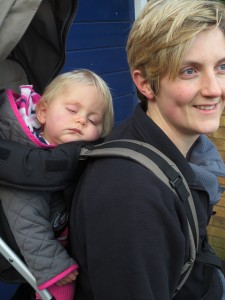 Does it make us happy?
We can't recommend this backpack highly enough. It's brilliant value, super comfortable and flexible as Hannah grows. Hannah loves to get out and about in it, and I do too.
Related Products