wherever there's a baby
04th December
Polly 2-in-1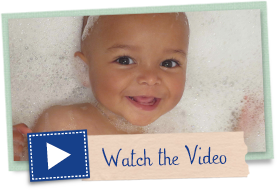 The Polly highchair is designed to carry babies from their first foray into sitting up and eating at around 6m until they are able to independently sit in a regular chair at the table.
Straightfoward and easy to use
The chair is very straightforward to assemble with a clear instruction booklet. It folds completely flat and the tray is easy to remove and cleverly clips onto the posterior aspect of the legs out of the way.
Our Polly was in a muted grey and white colourway, named "chick to chick", which looked attractive in our neutrally decorated home.
Olivia loves how comfortable it is – for eating and sleeping!
The Polly features a five point safety harness that is quick and easy to fasten. There is a clever double padded layer to the chair so the inner layer can be easily removed to accommodate a growing baby/toddler. The padding is thick and clearly very comfortable as Olivia regularly enjoyed a post-snack nap sat in her reclined chair, another appealing characteristic of the Polly 2-in-1; the chair can be tilted into three positions of recline from the most upright that is perfect for eating through various degrees of recline, suitable for playing, relaxing and resting.
Folds completely flat and tray is easy to remove.
A great feature
In all honesty, I do not think I would not have looked for a reclining seat in a high chair but it is extremely useful especially for Olivia, who is not adept at daytime sleep normally, but enjoyed many a snooze in her chair.
Different heights for different dining
The chair can be positioned at seven different heights, which really works for us and the chair arms can also fold up and down and the tray removed so the Polly chair can be used on its own or at a separate dining table.
Practical & useful removable tray and cover
The Polly's own table tray is easy to clip on and off and locks into a variety of positions along the folded-down arms, great for when Olivia gets bigger. I especially like the easily removable plastic cover to the tray. It means that Olivia can play with her toys on the uncovered table whilst I prepare her breakfast, lunch or supper on the plastic table top. I then simply clip on the cover when it is ready to eat and easily give it a wash afterwards.
Messy mealtimes!
Whilst we love how comfy the chair is, it does mean that the some food can get between the layers of padding. All parts are wipe clean which is great but it just took us a little longer at first! The chair is also big and heavier than chairs our friends have, but it feels robust so this is not something that worried us.
Did Polly 2 in 1 make us smile?
Overall we are very happy with our Polly!
Related Products