wherever there's a baby
24th February
Polly Magic highchair
We recently celebrated Rory's first Christmas and Hogmanay. It was a truly special time – not least because, after almost seven years of asking him, Santa (helped by a little IVF/ICSI magic!) finally gave me the only thing I've truly longed for…my child.
Polly Magic High Chair really lived up to its name and added some extra magic for us.
Family Time
The Chicco Polly Magic highchair is designed for newborn babies until they are around three years old. For babies from zero to six months it can be used as a newborn chair: the cushion makes sure baby is comfortable and safe. Rory didn't quite take to the chair straight away – however he didn't seem to like anything he needed to be strapped into initially.
With a little perseverance, by the time Christmas came around, he loved it. On Christmas Eve he sat at the table with the rest of us until his bedtime. He pulled a cracker with his five-year old cousin Skye (unsurprisingly Skye won…!), giggled and looked at everyone around the table, and was very contented. 
Adjustable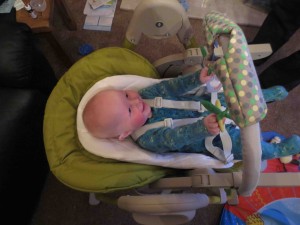 The beauty of this seat is that it can be adjusted to six different heights. Rory was at the same height as the rest of us and really join in.
As he grows, I plan to use the seat in the kitchen as I prepare his meals so that he can experience the enjoyment of making meals and build a positive association with cooking healthy real foods.
When Rory turns six months we can begin weaning and the Polly Magic can be turned into a highchair with the addition of the tray. The tray cover is easy to remove and will be great to carry Rory's meals to him.
When he becomes a toddler, we can use it as a normal chair, so he can sit at the table with the family, in total safety and comfort.
Design
A chair that will grow with Rory so he can sit with the family.
The chair's design is clean and modern, which doesn't look out of place at our neutrally coloured dining area.
Fun and learning
When not used for eating or joining in conversations at mealtime, the chair comes with an easily attachable arm that holds colourful, fun toys, which help to keep Rory's brain stimulated and make him smile.
Tidy and transportable
Although I've seen more compact highchair designs, Polly Magic does fold somewhat and the lower legs can be removed to allow it to be tucked away in a smaller space.
It also has a net tray underneath which will be useful to keep wipes, clean muslins and bibs, so they're easily accessible when the food fights/fun really begins!
Although we've not yet used the chair for food, I am confident that no matter what is thrown at it, it will clean up very well.
Did it make us smile?
A unique and adaptable chair, Polly Magic has provided some of the most important smiles that Rory and I have shared together so far. I can see it providing many more smiles in the months and years to come.
Related Products