wherever there's a baby
02nd September
Bi-lingual Toys: Talking Dragon & Talking Carpenter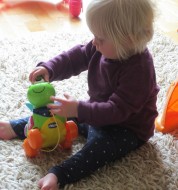 Hannah and I have loved testing Chicco's gorgeous talking toys range.  We've put Talking Dragon and Talking Carpenter through their paces!
Bilingual toys – great for introducing languages
Talking Dragon (suitable from nine months) and Talking Carpenter (suitable from 12 months) are both bil-ingual talking toys, and have key phrases, numbers, shapes, colours and alphabets in both English and French.  I think this is such a brilliant way of introducing languages to Hannah and helping her learn different sounds through play.  Her older brother often sings along in French too – bonus!
Talking Dragon – brilliant fun
Hannah loves the pull along string of Talking Dragon – she loves to watch his head turn as she pulls him towards her.  I really like his smile!  He also has lots of brightly coloured buttons which Hannah loves to press to make the vocals and songs start.  There are lots of different songs and phrases to learn.   Both the string and the buttons encourage Hannah's co-ordination as well as encourage her to talk and sing along.  We both think he's great!
Talking Carpenter – engaging and encourages co-ordination
Talking Carpenter is a really engaging toy, and Hannah will sit and play with all the different features for a good while.  She particularly loves grabbing the three tools – saw, screwdriver and hammer and trying out and bashing all the features.  There are lots of different sounds with this toy too; it has three play modes and plays different sounds for each one.  You can choose between work sounds, music or learning.  Hannah loves the work sounds best of all – when she makes the sawing noise turn on it always makes her giggle.
A great way to introduce languages to Hannah and helps develop co-ordination skills.
Do they make us happy?
We can't recommend these toys highly enough.  Hannah absolutely loves the toys and gets so much enjoyment out of them.  I love that they're educational through play, and encourage Hannah's co-ordination and language skills.   All toys have passed our happiness test with flying colours!
Related Products