wherever there's a baby
15th November
Today travel system
This month, myself and Mia have been testing our Chicco Today Travel System. This is a solid sturdy pushchair and looks as though it can definitely be pushed to the limit. And despite its bulky look, it's surprisingly very, very lightweight!!
Bright and colourful
We have the Today System in the red option, which is a nice bright colour, looks stylish and also goes lovely against Mia's skintone. I also think this colour would suit both sexes, so should any more arrivals happen, you're sorted

Easy to use – even when you're in a rush!
We use the Travel System on all our outings but main uses recently have been doing the school run for Mia's older brother, trips to the park and also our favourite – shopping trips and the handy bottle or drink holder in the storage compartment is great for Mia's mid-morning milk or my much needed coffee fix!
We love that the Today pushchair is so easy to use especially when we are in a bit of a rush (which happens a lot in our house with three kiddies to run around for). The wheels have a handy little lever to control their movement, making sure Mia has a safe, smooth ride at all times.
So easy to use
Key-Fit car seat – safety and convenient
As well as having the pushchair on its own, the Today System comes complete with a Key-Fit group 0+ car seat and carrycot. Both of these options fit quickly and easily onto the pushchair, all with a simple 'click'.
We tend to use the car seat option mainly when we are in a hurry, as I can literally just unclip Mia from the base attached to the car and click her onto the pushchair. The car seat is reassuringly safe and offers Mia protection when we're in the car and out and about with the stroller. It's easy to adjust to fit Mia securely and also appears to be very comfortable as she is always smiling when she's in it!
Mia is comfortable and content
The Today Travel System has a 5-position recline option making it suitable from birth, and Mia being the nosey little madam she is loves this, because she can have the backrest slightly lifted enough that she's still secure and comfortable. In the Today Travel System, Mia seems content and happy the whole time J The seat seems wide and spacious, allowing room for Mia as she grows.
The carrycot probably has been used the most so far and comes in handy in various situations, especially when we take Mia's sister Alissia to the park, she can lie peacefully staring and being nosey at the trees before nodding off for a little nap! Also, when the kids go for a sleepover at their grandparents, the carrycot comes in handy, giving Mia a nice cosy place to sleep for the night.
Great everyday accessories
Accessories included with the Today Travel System are the footmuff, matching changing bag and a raincover, which suits both the carrycot and stroller, which are all definite everyday necessities. The bumper bar keeps Mia safe and also has a very useful tray for her too!
Another favourite for us is the hood
The Today Travel System also has a large basket underneath which holds a good amount of shopping so no need for those gadget clips here. Another favourite for us is the hood, as it folds all the way over, which comes in handy on days when there is a glare coming from the sun. I can angle the hood in order to stop the sun shining in Mia's face.
Easy to store
It's really easy and quick to fold up and down. I can do it with one hand and it is very compact once folded up. The handle even folds down into the pushchair with the push of two buttons either side, making it tuck away nicely at home and as well as this, it helps it slip into the car boot nice and neatly.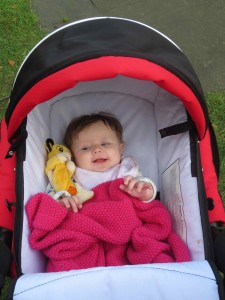 Did it make us smile?
We really think the Travel System is worth every penny and would definitely recommend it to other parents, especially as it is suitable up until the age of 3!!
Related Products